Phone: (785) 539-6051



Normal Hours
Sunday: No appointments
Monday: 8:30 AM – 5:00 PM
Tuesday: 9:00 AM – 6:00 PM
Wednesday: 8:30 AM – 5:00 PM
Thursday: 9:00 AM – 6:00 PM
Friday: 8:30 AM – 5:00 PM
Saturday: 8:00 AM - 12:00 PM
If you have an eye emergency (including eye pain or sudden vision loss) please call the office directly. If the office is closed and no after hour number to call is given on our answering system please report to your local emergency room immediately.
After two generations of seeing patients in Aggieville, Dr. Stigge & Epic Vision are moving to a new location at the corner of Claflin Rd & Beechwood Terrace! The exciting new location provides private parking in a warm & welcoming environment. The new office also has expanded space allowing for additional staff & an additional doctor, Dr. Nick Mondero. Dr. Mondero, like Dr. Stigge, is a Wildcat fan choosing to raise his family in Manhattan! As always, we accept all major insurances including VSP, Eyemed, Medicare, BCBS, Medicaid & many more!
Bring your family and friends!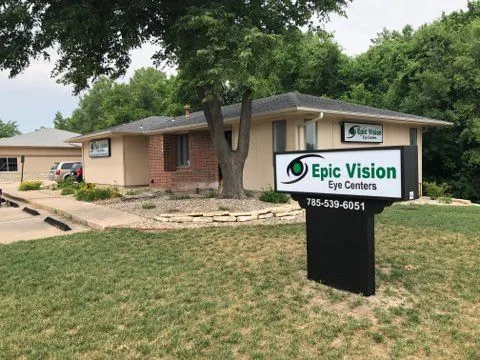 Picture of Epic Vision's new location in Manhattan
Contacting our Eye Center in Manhattan
Are you having trouble with your eyes or vision? Is it time for a routine eye exam? If so, come visit the team of friendly and trustworthy optometrists at Epic Vision Eye Centers. We are dedicated to improving the lives of people throughout Manhattan, KS with comprehensive eye exams and expert diagnoses. From exams to glasses to LASIK surgery, our optometry team can help you and your family see better than ever.
If you're an established patient with Epic Vision Eye Centers Manhattan, you should know that our office moved on July 7, 2018. Our new office is located on Beechwood Terrace, across the street from the West Loop Shopping Center.
Services Offered at our Manhattan Office
Eye and Vision Exams
It's a good idea to see an optometrist at our Manhattan office regularly. We offer eye and vision exams to test for vision problems and eye diseases in adults and children - paying special attention to certain diseases for those with diabetes.
Contact Lenses, Glasses, and Sunglasses
If your vision needs correction, Epic Vision Eye Centers a variety of lens and frame options. If you want contact lenses, we'll test if your eyes are suited for contacts and fit you with the right kind. If you want glasses or sunglasses, we have several frame options available in a variety of styles.
LASIK and PRK Surgery
If you don't want to wear eyeglasses or contacts, we can sit down with you and discuss surgery as an option. A doctor who specializes in eye surgery will evaluate your eyes and determine if you are a good candidate for LASIK or PRK surgery. PRK (photorefractive keratectomy) is often a good option for those who aren't suited for LASIK surgery.
Computer Vision Treatment
When you sit and stare at a computer or your phone all day, it can strain your eyes. Symptoms of computer vision syndrome include headaches, blurry vision, strained eyes, discomfort, dry eyes, and neck pain. If you suffer from these symptoms, visit our Manhattan office for a screening.
Contact Us Today
Whatever your eye care needs are, you can count on the experienced optometrists at Epic Vision Eye Centers to help. We are passionate about the health and wellness of our Manhattan area patients and strive to give you the best care possible when you enter our office. Visit our website today to learn how we can help you live better and see better.