Contact Lens Exams from Our Epic Vision Eye Centers
When it comes to corrective lenses, patients at our Epic Vision Eye Centers in Kansas and Missouri, have more options than ever, particularly with contact lenses. Understanding how contact lens exams differ from regular vision exams is helpful before scheduling an appointment.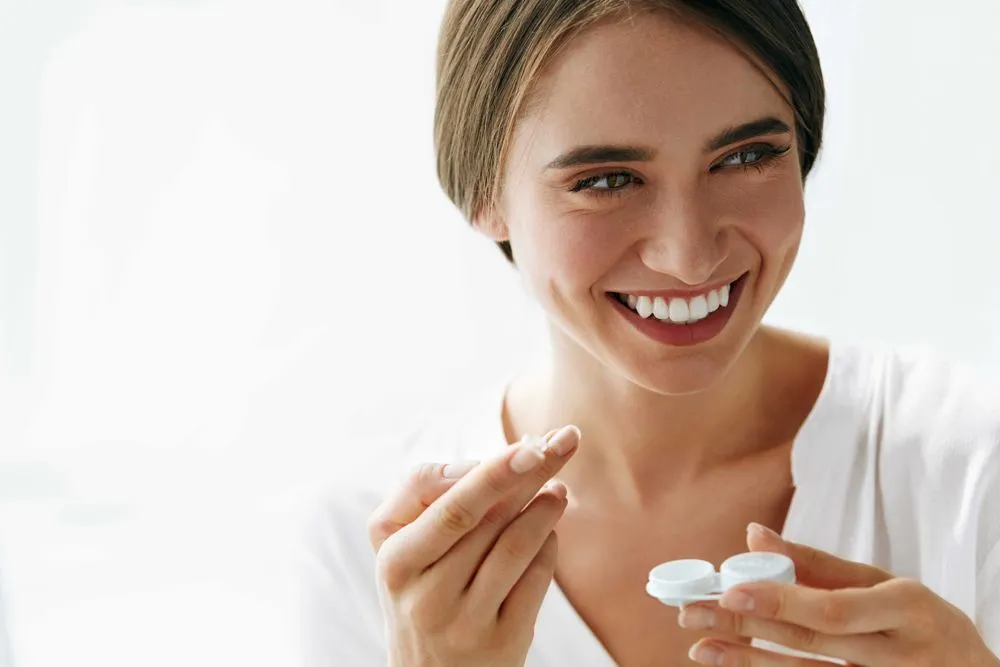 Benefits of Contact Lenses
Contacts have many advantages over wearing glasses. Because contacts sit directly on the eye, they allow unobstructed vision. This specifically aids peripheral vision. Contacts conform to the eye's curvature, so wearers experience fewer visual distortions than with glasses. Some special lenses are available to reshape the cornea during sleep and temporarily correct myopia.
With contact lenses, there is no fear of glasses getting frozen or falling off during sports, exercise, or outdoor adventures. The outside temperature doesn't affect contacts, so they don't fog or feel cold to the skin when the mercury plummets.
Contacts also create great cosmetic effects. Green eyes can quickly look blue. It's even possible to select colors to match a special outfit or costume.
Our optometrists can recommend a number of types of contacts to correct vision. Both rigid gas permeable and soft lenses area available. We offer lenses that require patients to change them every day, once a week, bi-weekly, or even monthly. We also fit bifocal contacts.
Hard-to-fit contacts are the solution for patients with vision issues that make it difficult to wear standard contact lenses. Among the most common problems are dry eyes, allergies, keratoconus, presbyopia, giant papillary conjunctivitis, recurring infections, and astigmatism. Our eye care professionals can prescribe lenses tailored to address each of these conditions. Among them are toric, gas permeable, and multifocal contacts.
Technologic advances have allowed many developments in contacts for cosmetic and prosthetic purposes. It's possible to fit custom lenses to camouflage irregularities in eye color or to transform it.
In addition to performing an exam, our optometrist will consider health history and expressed lifestyle before helping a patient choose the best option and brand of contact lenses.
Contact Lens Exams at Epic Vision Eye Centers
A contact lens exam requires more time than a typical eye exam because it includes additional tests. The optometrists at our Epic Vision Eye Centers are responsible for the health of eyes of patients who wear contact lenses. Therefore, in addition to visual acuity testing using an eye chart, we perform a series of tests to evaluate the condition of a patient's eyes and determine the prescription required to correct any refractive problems, such as being nearsighted.
Patients can expect a number of measurements during a contact lens exam. Corneal measurements assess the curvature of the cornea. Proper fitting also includes pupil and iris measurements, tear film evaluation, and an assessment of the surface of the eye to gauge the health of the cornea. This surface evaluation also detects any corneal changes in those already wearing contact lenses.
After testing, our optometrist asks questions about the individual's activities and any contact lens preferences, such as overnight-wear lenses, before helping the patient select the most appropriate option.
Schedule an Appointment with Our Optometrist
Our Epic Vision Eye Centers patients appreciate our staff's one-on-one approach to eye and vision care. Our optometrists offer a full spectrum of vision care services, from eye exams to corrective lenses, testing for eye diseases, and care before and after surgery. Contact one of our 12 convenient locations in Kansas and Missouri, and schedule an appointment with one of our optometrists to learn which contact lenses might be best for you.