Ortho-K is the use of specialized contact lenses that gently reshape your cornea to correct vision abnormalities. At Epic Vision Eye Center, serving Smithville, MO, Bonner Springs, KS, and several other areas, we offer Ortho-K. It is important to understand how these special lenses work and who qualifies for them. Here are some commonly asked questions about Ortho-K.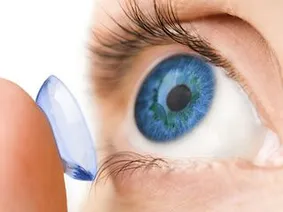 What Is Ortho-K?
Ortho-K, also referred to as orthokeratology, can correct vision problems, such as nearsightedness. These lenses are very different from traditional lenses and require different eye exams. You wear these contacts while you sleep, rather than during the day. Instead of correcting the way they refract light, these contacts reshape your cornea. As a result, light enters and shines on the retina like it's supposed to. This can improve vision problems over time. While these vision problems can be corrected with standard contacts, Ortho-K allows you to avoid wearing corrective eyewear during the day.
How Does It Work?
To get fitted for these lenses, our optometrists will measure your cornea using a corneal topographer and design lenses for your eyes. The lenses are rigid and gas-permeable so they can reshape the cornea. You may see an improvement in your vision after wearing the lenses for a few nights. However, it could take a couple weeks to get to your desired level of vision. This treatment is continuous, and without the lenses, your vision will regress back to its original state.
Who Qualifies for Ortho-K?
Most commonly, our eye doctors recommend Ortho-K for patients who have nearsightedness. People who have farsightedness or astigmatism may also choose Ortho-K. Our eye doctor may prescribe these lenses as long as you have a deficit of -6.00 or less, or suffer from a mild case of hyperopia or astigmatism. The patients who have the best results from Ortho-K eventually have 20/40 vision without the use of corrective eyewear.
People with certain eye conditions may benefit from Ortho-K more than others. For instance, a patient may benefit from Ortho-K if he or she has astigmatism or keratoconus. Both conditions stem from an irregularly shaped eye that hinders a person's vision. Our optometrists can help determine if Ortho-K would work for you and your condition.
Schedule Your Appointment
If you suffer from a refractive error, Ortho-K may be a good option for you. At Epic Vision Eye Center, we have skilled optometrists that can determine if you qualify for Ortho-K and help you through the process. We know that every patient is different, and we will work to find the best possible treatment option for you. We serve residents of Smithville, MO, Bonner Springs, KS, and many other areas. To learn more about our services or to schedule an appointment, call us today.